Are you struggling to build your martech stack?
You're not alone.
Studies indicate that the ever-evolving marketing technology market is worth almost US$100 billion.
However, many companies aren't happy with their investments. A lot of brands find it tough to keep pace with the rapid growth in martech solutions. Even if you have a good grasp of the technical side of things, there's only so much your budget can afford.
So, what's the secret to developing a profitable, cost-effective marketing technology stack?
Let's find out.
7 Actionable Tips to Create a High-ROI Martech Stack
There are a ton of martech solutions to consider. Well, 7,040 on the last count, actually.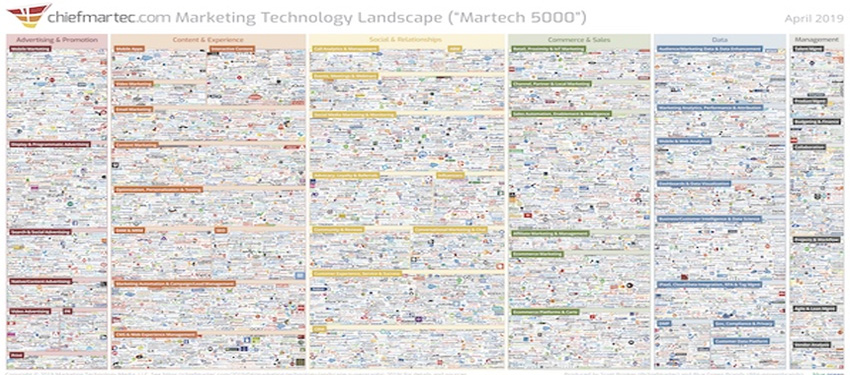 Follow the tips below to build a marketing technology stack that ensures you get more bang for your buck.
1. Select Your 'Vital Few' Martech Solutions
You'll want to protect your budget from being wasted, so it's essential to focus on the major use cases for martech solutions. By evaluating new products with these use cases in mind, you can refine your martech stack for better results.
Will Griffith is the APAC regional director for Oracle Marketing Cloud. He believes that this simple approach to establishing your "Vital Few" is crucial for the ROI of your marketing technology stack.
"Be harsh and cut out the non-core to leave yourself with your 'Vital Few'. When it comes to martech investments, you shouldn't even look at it if it doesn't align with one of your Vital Few objectives, goals, and vision."
Learn More: The Big Value Marketing Automation Stack for Under $300
2. Get Relevant Demos and Free Trials Before Buying
In martech, it doesn't matter how big the vendor is - they should be able to provide a free trial so you can try a product before buying.
Some of the more expensive martech solutions don't offer a promotional period of any kind.
However, all is not lost.
Marketers should push the vendor to build a relevant demo for your company to demonstrate how the product will fit in your martech stack. You must be confident that it is a viable solution for your needs.
3. Consider Social Proof from Existing Customers
84% of people trust online reviews as much as their friends. Moreover, consumers trust the word of existing customers a whole lot more than the word from a brand and corporate pages.
You can quickly learn more from previous customers to determine whether a specific product is suitable for your martech stack.
Go one step further to ask the vendor about any customers in your industry. They may be able to connect you with a customer in a similar space who's already doing the same things that your brand wants to accomplish.
Getting a testimonial from a similar company to yours will give you a solid understanding of the product's efficacy before you commit.
4. Communicate Martech Stack Decisions with all Teams that Matter
Quite often, a new addition to your marketing technology stack will benefit one department of your business more than others. However, that doesn't mean only the department in question should be consulted.
For example, if you're thinking about buying new email marketing software, the buck doesn't stop with your marketing team or content writers. Don't forget that personal privacy and security are paramount now, so you should bring in your legal team too.
CMOs should work to keep everyone in the loop, breaking down silos to facilitate a smooth onboarding process for any new martech solutions.
Learn More: Essential Qualities of the Modern CMO
5. Use It or Lose It
Until now, we've been discussing martech solutions. But here's the truth about marketing technology:
It is an enabler - not a solution.
McKesson's Rohit Prabhakar claims that marketers are often so blinded by the supposed potential of technology that they rarely employ it properly. As a result, 59% of marketers believe they aren't getting the full value from their martech stack.
So, how can you get a better ROI?
The smartest way is to only use the marketing technology you need. Instead of having dozens of tools that you use sporadically, look for a few tools that you will regularly use - preferably daily.
6. Don't Forget Data is No Good Without People to Process It
There's a lot of focus on data nowadays. While it's undoubtedly powerful, you need to dig below the surface to put data insights to real use.
For that, you need talented people in your team, and streamlined processes that ensure your business leverages data analysis to learn more about your customers.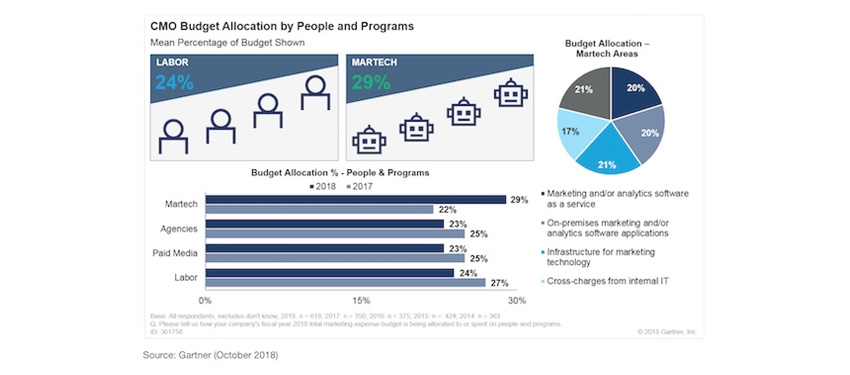 Johnson & Johnson has been a dominant force in big pharma for over a century, but the company knew it wasn't immune to digital transformation. The leadership realized the business needed to shift towards personalized, real-time content, which would offer a frictionless online experience for customers.
Of course, the technology was a massive driving force, but this transformation was only made possible by the people and agile processes the company had in place.
7. Evaluate Each Service in Your Martech Stack Against Your Goals
Remember, this is a customer-centric age. With that in mind, you should think about how every aspect of your martech stack impacts the customer journey and their experience with your brand.
Consider the following:
Where do your site visitors come from - organic search, social channels, or paid ads?

How do they engage your content - comments, shares, downloads, etc.?

Is your marketing increasing trust in your brand and driving your goals? Over time, are you getting more subscribers, followers, and social shares?
Think about the big picture, and determine whether each one of your martech solutions is yielding dividends. If not, it may be time for a cull.
Wrap Up
Data and automation will continue to thrive, but only if the people and processes around them are ready to work together with the technology.
Don't forget:
Your marketing technology stack is an enabler, not a solution.
By adopting a people-first approach, and with your goals in mind, you can optimize your martech stack so that every tool adds tangible value to the marketing strategy and the customer experience.
This strategy paves the way for more human-centric digital experiences that are more relevant to your audience. Ultimately, this will generate a better return on your martech stack.
Done right, this style of martech stack optimization enables your brand to do more with less.
Now, how can your business bring people and technology together today?